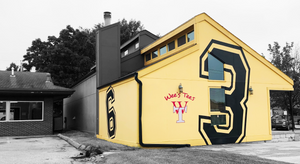 Who We Are
You found us! We are a pretty cool custom apparel and promo gear one-stop-shop for all your marketing, event, and personal needs! We have our own screen printing press, DTF Transfer Printer, and heat set press (to name a few!) in house!
Give us a call if you've got a question or shoot us an email through the contact page!
Send Us Your Custom Designs!
Speed up the process with less back-and-forth communication! Visit the Customizers navigation link at the top to design your own hats or uniforms! Share your design with us to order! It's that simple!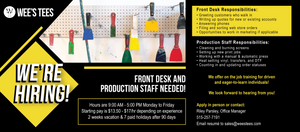 Hiring Update!
The front desk position has been filled! However, we are still looking for production staff to help us create quality custom product through screenprint and heat set! Apply now!
WINNING PRINTS!
We were voted Ankeny's Best in the Custom Printing category for the Des Moines Register's 2021 Best of Ankeny businesses! Thank you for your support as we continue to deliver only the highest quality custom gear!
Testimonials
I love this company! They always deliver creative ideas and quality product.

Christine
Great store, Great staff and Great experience!! Highly recommend Wee's Tee's if you want a great product and great customer service. They are essential for making any new business official!

Iowa Family Chiropractic of Ankeny
Randy and his staff are amazing! No matter what we come up with they deliver!! We have used them for over 5 years and have NEVER been disappointed. Thank you for knowing what true customer service and satisfaction is!!

Leesa
Always great to work with Randy and his staff at Wee's Tees. Affordable prices and excellent service.

Todd
Owner always does what he says he's gonna do. Worked with him on orders and he is great on follow though.

Inside Out Renovations